This article describes how to set up Japanese and Chinese text input with Gnome 3.6 on Fedora 18. I've used Japanese text input since RHEL 3, and with every version it gets easier. Similar articles describe the procedure for other Fedora versions.
Japanese text display works by default. If a Japanese language web site does not display properly in Firefox, try adjusting the encoding with the choices in the View > Character Encoding > More Encodings > East Asian menu.
For information on how to install Japanese language input on other Linux distributions, see Scott Robbins' authoritative guide, Inputting Japanese text in Linux and some BSDs.
Install the Software if Necessary
I was pleased to find Japanese support installed by default.  If you want to verify this, go to Activities > Applications and choose the Software application.  Click on Package Collections, and verify that Japanese character set input library is checked.  This is a collection of multiple packages that provide a variety of nice Japanese features.
The Software application has a convenient search box in the upper left.  Type japan and press Enter.  A list of every package related to the Japanese language will appear.  You can install additional packages if you wish.
Set the Input Sources
Go to Activities > System Settings and choose Region & Language.  Choose the Input Sources tab.
Select the + icon at the bottom of the dialog to add a language
Select Japanese (Anthy) and click Add
Repeat for other languages you write.  I write Chinese from time to time, so I added Chinese (Intelligent Pinyin).
Use the ↑ and ↓ buttons to arrange the order in which the languages appear when you hit the Ctrl+Space shortcut key. The languages should be ordered from most commonly used to least commonly used.
Click Shortcut Settings.  The Keyboard dialog, which allows you to set the shortcut keys (fast keys), will appear.
Highlight Switch to next source
Press the Ctrl and the Space keys.  This sets the shortcut key for advancing to the next input language.
You can set shortcuts for the other actions, but I find the above adequate.  I would never remember the other keys even if I did set them.
Dismiss the dialog
Type Japanese or Chinese
Now give it a try:
Put your cursor in a text entry window that handles international input. A text entry field on a web page or a LibreOffice document can do this.
Hit Ctrl+Space to switch from the default language (English for me) to the next input method (Japanese in my case).
Type something in Japanese
If you have a third input method (Chinese for me), hit Ctrl+Space. Now you can type in the third language.
Another Ctrl+Space advances to the next language (in my case, this returns to my default language, English)
You can also use your mouse to change languages by clicking on the input method in the upper right of your desktop and choosing a language from the menu.  Once you choose Japanese, the Input mode sub-menu allows you to select Hiragana, Katakana, and so on: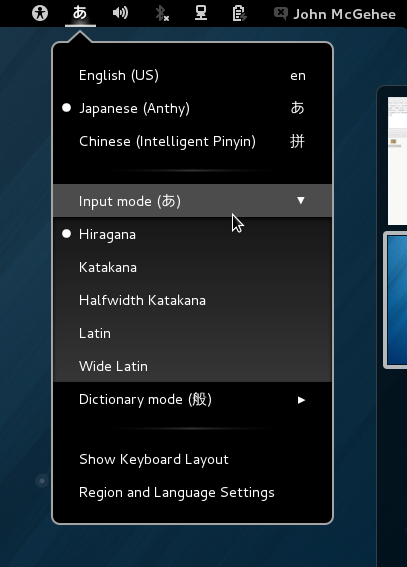 Now at last I can directly express in Chinese how good Linux is, 非常好, instead of entering how much I like it in Japanese, 非常に好きです, and then editing this into Chinese.
Change Your Display Language
If you really want to go native, you can change the language of your desktops and applications to use Japanese.  However, don't try this at home unless you can actually read Japanese well. In particular, you will be asked if you want to change your file names to Japanese. Give the wrong answer, and your Desktop/ directory will be renamed デスクトップ/.
Link to This Article
Link to this article at http://www.voom.net/japanese-input-method-fedora (without the "-18″). When I write a new article for a new Fedora version, I update this link so it always redirects your readers to the latest article.
---
Photo Credit: "Abstract Tank 2″ by my aunt, Norma McGehee Woodward.  This photo is used by permission and is copyright 2012 Norma Woodward.